Different Types of Fireplaces for Fall Ambiance
Posted by Chris Grant on Monday, October 2, 2023 at 1:38:26 PM
By Chris Grant / October 2, 2023
Comment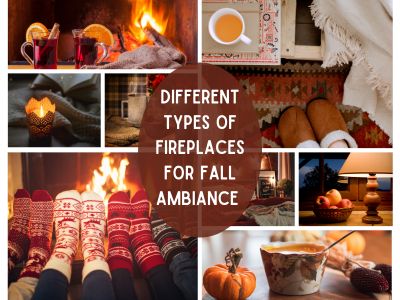 When you walk into a grand living room and the center focal point is a gorgeous fireplace burning an ambiance into the room you just can't help but feel cozy. While Florida weather is best known for providing sunshine and long summers, we get our fair share of rain, and even on days that aren't overly "chilly" there is something to be said about a cozy fireplace. Fireplaces were once used to create warmth in a home and although that is still their main function, they are popular for many other reasons too. What once was a simple open space to burn wood for heat, has grown into an industry with many options. There is a wide variety of fireplaces using many different fuel types, structures, and visual effects.
Fireplaces have been the focal point of most households throughout human history, providing light, heat, hot food, and a central place to rest or entertain guests. In recent years, the options for homeowners have expanded dramatically to include a wide array of fuel types, structures, visual effects, and other options.
If you are looking at fireplace options you have to consider what your fuel source will be and then you can decide upon the safety, convenience, efficiency, and of course the cost.
So, what are some of the most popular fireplace options out there?
Wood Burning
If you grew up with a wood-burning fireplace then it is likely you won't entertain any other option. Wood-burning fireplaces create an aroma in the home, unlike any other fireplace option. There are several types of wood-burning fireplaces. There are open hearths, wood-burning stoves, and wood-burning inserts. This is truly still a favorite to those who love a real fire.
Gas Burning
Currently, gas-burning fireplaces are the most popular and efficient. They eliminate the cost and need for firewood and they can generate a great amount of heat that can usually be adjusted. The only downfall is if you experience a power outage, you will not have the ability to use this fireplace. If you choose to have a gas-burning fireplace you will have to decide what venting system you want. Gas fireplaces do not draw air from the inside of your house and this makes them extremely efficient and safe while keeping our indoor air quality.
Electric
Electric fireplaces are the most cost-effective fireplace options. They are so easy to install and add to your home. These simply plug into the wall. Similar to gas fireplaces, you will not have the use of these if there is a power outage. However, there is greater flexibility with electric fireplaces. These can be moved around your home. You can decide on the light strength of the "fire" and you may even have options of color choice or appearance based on the lighting features in the electric fireplace you chose. These fireplace options are especially popular among many Florida residents as they are easy to install and use within condos.
Having a fireplace in your home makes all the difference in your cozy, family-friendly living room. It is a holiday season favorite and a winter necessity. If you are looking to put a fireplace in your home or change the existing one, consult with a professional company. Fireplaces are a very specific part of the construction of your home and they can add value to your home.