Hidden Gems In Punta Gorda for Beach Lovers, Nature Enthusiasts and Family Fun!
Posted by Chris Grant on Tuesday, October 10, 2023 at 1:48:01 PM
By Chris Grant / October 10, 2023
Comment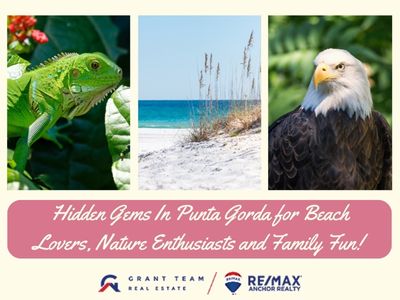 Nestled along Florida's Gulf Coast, Punta Gorda alone is often considered a hidden gem in the south of the Sunshine state, however, within the charming town you can find even more to enjoy and explore. From thrilling adventures for the kids to serene spots for beach lovers and nature enthusiasts, this charming town offers a variety of hidden treasures waiting to be explored.
Here are some of the best hidden gems in Punta Gorda
For the Kids to Enjoy:
If your children have a fascination with lizards, turtles, and all things scaly, they're in for a treat at IguanaLand. This remarkable reptile zoo is the largest reptile zoo in the world. With over 230 species from around the globe residing in comfortable habitats, families can embark on an educational journey through the world of reptiles. The park typically takes 1.5 to 2 hours to explore, but for a truly immersive experience, consider VIP and Animal Encounter tours that offer behind-the-scenes and up-close encounters with these fascinating creatures.
Kidstar Park is an expansive playground designed to make your child's day unforgettable. Boasting large ball pits, tunnels, and an arcade where kids can win tickets for exciting prizes, this park promises hours of entertainment. Let the little ones run wild and expend their energy as they explore this exciting play space. When you think of a playground, multiple it by 10 and you have the incredible play area at Kidstar Park!
For Beach Lovers:
Port Charlotte Beach Park is a beach lover's paradise. This recreational complex features a man-made beach, a scenic boardwalk with a fishing pier, boat ramps, canoe and kayak launches, and numerous sports courts – sure to fill your day with plenty of fun. Whether you're into pickleball, tennis, volleyball, or basketball, you can find it all! The park also offers a playground, picnic areas, pavilions, restrooms, a heated swimming pool, and a recreation center. Be sure to arrive in time for "The Golden Hour" to witness spectacular sunsets over the Gulf of Mexico.
For a more nature-centric beach experience, visit Stump Pass Beach State Park. This serene park offers a hiking trail with breathtaking views of both the Gulf of Mexico and the intercoastal waterway. Hike along the sandy path or take one of the many outlets to the beach and soak in the coastal beauty. At just $3 for parking, it's an affordable and fun way to spend a day soaking in the sunshine and views. Arrive early during the winter and spring seasons to secure a parking spot as it can get crowded.
For Nature Enthusiasts:
The Peace River Wildlife Center is a haven for bird lovers and wildlife enthusiasts – taking bird watching to a whole new level! Home to various bird species, including majestic bald eagles and pelicans, this center offers an opportunity to connect with nature. It's conveniently located near a delightful park, a serene beach, and a scenic nature trail, making it a perfect outing for the whole family. Admission is free, and donations are warmly welcomed and used to be put back into the Wildlife Center.
For a truly unique experience, head to the Octagon Wildlife Sanctuary. This haven is dedicated to rescuing and providing a loving home for exotic animals. From lions and tigers to primates, canines, birds, and even bears, you'll encounter a wide array of fascinating creatures. Arrange a private guided tour to get up close and personal with these incredible animals and learn about their stories and the sanctuary's continued conservation efforts.
Punta Gorda, Florida, is a treasure trove of hidden gems waiting to be discovered. Whether you're seeking adventure for the kids, serene beach experiences, or a deep dive into nature, you'll find it all in this charming coastal town. Whether you've lived here your whole life and you're starting to explore all the town has to offer, or you're hoping to find your dream home in Punta Gorda, we are here to help make all of your real estate dreams a reality!