Is Punta Gorda a Beach Town?
Posted by Chris Grant on Monday, October 23, 2023 at 9:45 AM
By Chris Grant / October 23, 2023
Comment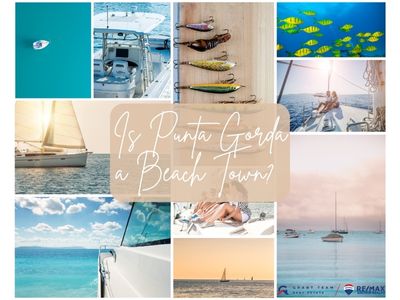 When many people think of Florida towns, especially ones that are as popular as Punta Gorda, they instantly think they must be beach towns. However, is this always the case? Nestled along the picturesque Peace River and offering a haven for fishing, boating, and sun-soaked relaxation, Punta Gorda, Florida, is an idyllic destination that captures the essence of the Sunshine State. However, a question often arises among travelers and newcomers: Is Punta Gorda truly a beach town?
Punta Gorda, a gem along the Gulf Coast of Florida, is renowned for its alluring waterfront views, vibrant downtown, and an array of outdoor activities. It's no wonder that this city attracts both tourists seeking a slice of paradise and new residents looking to embrace its unique lifestyle. But what about the beaches? Punta Gorda's proximity to Englewood Beach on Manasota Key, the most popular beach area in the vicinity, has led some to consider it a beach town, however when looking at the maps, this isn't quite true.
The Drive to the Beach
For those who crave the feel of sand between their toes and the gentle lull of waves, Englewood Beach on Manasota Key is the go-to destination. Punta Gorda is approximately 26 miles away from this sandy oasis. The drive to Englewood Beach typically takes around 35-40 minutes, making it a feasible day trip for Punta Gorda residents and visitors.
The Coastal Charms of Punta Gorda
Punta Gorda's charm comes from its unique blend of natural beauty, cultural vibrancy, and recreational opportunities. Nestled along the Peace River, while not a true beach town, the city offers a waterfront lifestyle that has earned it a stellar reputation among outdoor enthusiasts. The Gasparilla Sound and Charlotte Harbor, which the Peace River empties into, provide an aquatic playground for fishing, boating, and water sports sure to please those of all ages and interests.
The city's marinas and waterfront parks are bustling hubs of activity, attracting fishing enthusiasts from all over. Punta Gorda is often praised for its peaceful ambiance and beautiful waterfront views. However, the distinction must be made that having a waterfront location doesn't automatically classify it as a beach town.
What Makes a Beach Town?
To define whether Punta Gorda is a beach town or not, it's crucial to understand the characteristics of a true beach town. A typical beach town is primarily defined by its immediate and convenient access to a sandy shoreline. It thrives on beach-centric activities, with the beach being the central attraction. While Punta Gorda has a beautiful waterfront, it does not fit this classic definition of a beach town.
Beach towns often feature a lively boardwalk or promenade, beachside cafes, and a bustling scene of beachgoers. In contrast, Punta Gorda offers a tranquil waterfront setting where fishing and boating take center stage. The city's downtown area is known for its charming streets, art galleries, and a thriving culinary scene rather than a beachfront strip, arguably more enjoyable for those who have a love for the water and yet enjoy a slower most relaxing lifestyle.
Exploring Englewood Beach
Englewood Beach, which is the nearest sandy stretch, offers the quintessential beach town experience. With its inviting shores, beachfront restaurants, and beach gear rentals, it epitomizes the beach lifestyle. Visitors to Englewood Beach can engage in activities like sunbathing, swimming, beach volleyball, and shell collecting just to name a few.
Punta Gorda, on the other hand, provides a unique experience that revolves around the water but not necessarily the beach. The city's appeal lies in its tranquility, water-based sports, and a charming mix of history and modernity. While residents and tourists in Punta Gorda can undoubtedly enjoy beach trips to Englewood, they return to a city with its own distinct charm.
Exploring the Best of Both Worlds
The proximity of Punta Gorda to Englewood Beach is undoubtedly a boon for those who appreciate variety. Residents can choose to revel in the vibrant beach scene of Englewood one day and savor the peaceful waters of Punta Gorda the next. This dual lifestyle allows for the best of both worlds without having to commit to the bustling atmosphere of a traditional beach town on a daily basis.
So, whether you're a sun-worshipper, a fisherman, or simply someone who appreciates the beauty of coastal living, Punta Gorda, FL, has something special to offer. It may not be a beach town in the traditional sense, but its unique blend of natural beauty and recreational opportunities make it a beach lover's paradise just a short drive away from the sand and surf. Ready to call Punta Gorda home? Contact our office today to find your own slice of paradise!