Preventing Package Thefts on Porches
Posted by Chris Grant on Monday, October 16, 2023 at 9:45 AM
By Chris Grant / October 16, 2023
Comment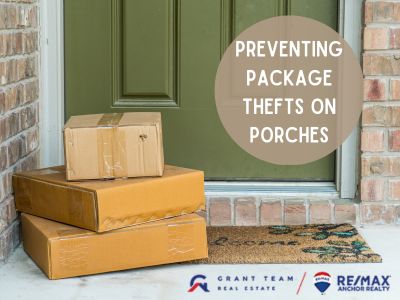 Somehow the Holiday season is right around the corner! It's getting to be that time of the year quickly around the country, and while Halloween decorations are going up, for many people who want to stay ahead of the hustle and bustle of the Holiday's, Christmas shopping has already begun! In today's society, it's not uncommon for a lot of shopping to be done online, and thus, there could be a lot of packages being delivered to doorsteps between now and Christmas. Don't become a victim of holiday theft. It can be so easy for packages to just disappear off of your front steps costing you money, time, and of course, stress.
Here are some easy ways to prevent package thefts this holiday season.
Request proof of delivery and signature on all orders. It can be more difficult, especially if you are gone during the day, but if no one is there to sign, the package will simply be returned to the post office or receiving station in town to be picked up upon request.
Use smart package lockers or convenience stores for pickup. Amazon will now allow you to pick up your delivery at Amazon locker in our area with a unique code.
Have packages delivered to your place of business. This allowed, have packages delivered to your workplace, this is also a great way to hide surprise gifts from significant others or children.
Install security cameras at your front door. There are so many programs out there like NEST and RING that allows you to see who's at your front door even if you're not home. You can set up sensors that will trigger a notification on your phone when someone is on your front porch.
Request a vacation hold if you're not going to be home. You can also have neighbors or friends check your front porch frequently for any packages and collect them as they come in.
Get a Package Guard™ for your delivery. Package Guard™ is a Wi-Fi enabled disc that requires the package to be placed on, alerting the customer that a package has been delivered to the house.
Consider insurance. Ensuring your holiday packages will guarantee reimbursement if unfortunately your delivery was stolen or lost before you get to it.
Whether you're planning on getting a start on your shopping early this year, or are simply looking for ways to help keep your packages safe on a regular basis, by using these few tips and tricks you can help lessen your chances of package theft!
If a new home is on your Christmas list this Holiday season, feel free to contact our office and let's make your Christmas wish a reality!