The 3 Most Important Rooms to Stage When Selling Your Home
Posted by Chris Grant on Monday, November 13, 2023 at 2:51 PM
By Chris Grant / November 13, 2023
Comment
When it comes to selling your home, first impressions matter more than ever. It's no secret that staging your home is a proven strategy to attract potential buyers and make your property stand out in a competitive market, but many sellers are wondering if you have to stage every room in the house. While every room in your home is important, there are three key spaces that hold the most weight in the eyes of buyers.
The Living Room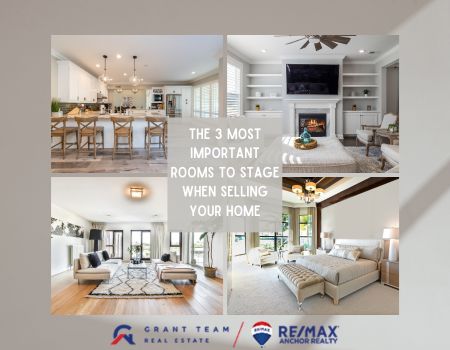 The living room is the heart of the home, where families gather, and guests are welcomed. It's the space where memories are made, conversations are shared, and relaxation takes center stage. With the holiday season approaching, many buyers in today's market are going to be paying extra attention to the living room as a space they can host guests. When prospective buyers walk through your front door, they should be able to envision themselves in this space, entertaining friends and family.
Why Staging the Living Room is Important
Declutter and Depersonalize: A cluttered and overly personalized living room can distract potential buyers. A professional home stager can help declutter the space and remove personal items, allowing buyers to focus on the room's potential.
Fresh Paint and Flooring: A fresh coat of paint on the walls and professionally cleaned flooring can give the living room a new lease on life. Choose neutral and inviting colors that appeal to a wide range of tastes.
Accessorize for Appeal: Accessorizing the living room is crucial. The right choice of furniture, decor, and lighting can make the space feel inviting and welcoming. A stager can select the perfect pieces to enhance the room's charm.
By staging your living room effectively, you can ensure that potential buyers see it as a place where they can entertain, relax, and create cherished memories.
The Kitchen
The kitchen is often considered the heart of every home, and for good reason. It's where delicious meals are prepared, conversations are shared, and memories are created. Buyers place high importance on the kitchen when considering a home purchase, so it's essential to stage this space effectively.
Why Staging the Kitchen is Important
Declutter and Organize: Cluttered countertops, cabinets, and pantry shelves can give the impression of inadequate storage space. A professional stager can help declutter and organize these areas, making the kitchen look more spacious and functional.
Repair and Refresh: Broken appliances or worn-out fixtures can be a turn-off for buyers. Repair or replace any damaged items to make the kitchen look well-maintained. A fresh coat of paint on cabinets can also give the kitchen a modern and inviting feel.
Accessories Matter: The right accessories can elevate the kitchen's appeal. Simple touches like fresh flowers, stylish dishes, and well-placed decor can make a significant difference in how potential buyers perceive the space.
Staging the kitchen as an open and functional area for cooking, storage, and entertaining can help buyers visualize the potential of this important room.
The Master Bedroom
The master bedroom is a sanctuary, a place where homeowners unwind and recharge, it's generally the one space in a house that is truly private, creating an escape even for those who host guests often. When buyers walk into the master bedroom, they should be able to envision it as a luxurious escape, a haven for relaxation and restful nights. Staging the master bedroom is vital for creating this perception.
Why Staging the Master Bedroom is Important
Clean and Neutral: Buyers should see the master bedroom as a neutral and soothing space. Ensure the carpets are clean, the walls are painted in relaxing colors, and the room isn't cluttered with personal items.
Accessorize for Comfort: To make the room feel inviting and luxurious, add accessories like bedside lamps, soft throw pillows, cozy quilts, and tasteful artwork. These elements enhance the room's comfort and appeal.
A well-staged master bedroom can help potential buyers imagine themselves retiring to a tranquil oasis each night, reinforcing the idea that your home offers both comfort and luxury.
Staging your home can be a great tool for selling your home faster and at a higher price. While every room in your home plays a role in the overall appeal, the living room, kitchen, and master bedroom are the top three areas to prioritize. By decluttering, depersonalizing, refreshing, and accessorizing these spaces, you create an atmosphere that helps potential buyers envision themselves living in your home, and ultimately, may receive offers faster, and for more than the competition.