Tips & Tricks To Planning Your Southwest Florida Fall Vacation
Posted by Chris Grant on Monday, September 25, 2023 at 1:58:17 PM
By Chris Grant / September 25, 2023
Comment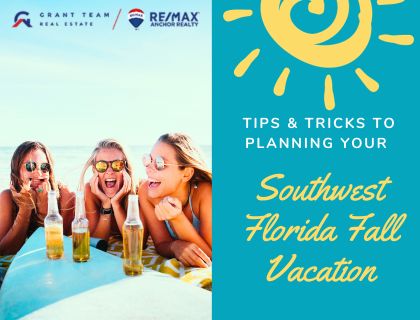 Fall is a magical time to visit Southwest Florida. As the summer crowds recede and the weather becomes milder, this coastal paradise transforms into a haven of relaxation and adventure. From pristine beaches to diverse wildlife and charming communities, Southwest Florida offers a plethora of experiences for every type of traveler. However, a well-planned vacation is key to making the most of your trip. In this blog, we'll share some expert tips and tricks to help you plan the perfect Southwest Florida fall vacation.
Tips & Tricks To Planning Your Southwest Florida Fall Vacation
Choose the Right Dates
Selecting the right dates for your fall vacation in Southwest Florida is crucial. Plan your trip between late September and November, as this period offers pleasant weather and fewer tourists. The summer heat has mellowed, making outdoor activities comfortable, and accommodation prices tend to be more reasonable during the shoulder season.
Explore Diverse Destinations
Southwest Florida is home to a range of vibrant destinations, each offering a unique experience. Naples, known for its upscale shopping and dining, is perfect for a luxurious escape. Sanibel and Captiva Islands are ideal for nature enthusiasts and shell collectors. Fort Myers offers a mix of history, culture, and outdoor activities, while Marco Island beckons with its beautiful beaches and water sports. Consider combining two or more locations for a more enriching experience.
Plan Outdoor Activities
Fall is a fantastic time to indulge in outdoor activities in Southwest Florida. Take advantage of the pleasant weather and explore the region's natural beauty. Go kayaking through the mangrove forests, embark on wildlife tours to spot manatees and dolphins, or hike through the stunning Everglades National Park. Don't forget to catch the breathtaking sunsets over the Gulf of Mexico; they are simply unforgettable.
Pack Smartly
When packing for your Southwest Florida fall vacation, make sure to include lightweight clothing suitable for warm days and cooler evenings. Don't forget to bring comfortable walking shoes, hats, and sunscreen to protect yourself from the sun's rays. Pack a swimsuit and beach essentials for some relaxing beach time, and remember to carry a light jacket or sweater for any cooler nights.
Book Accommodations Early
As fall is still a popular time for travelers, it's essential to book your accommodations early. Whether you prefer beachfront resorts, boutique hotels, or cozy vacation rentals, securing your stay in advance ensures you get the best options at competitive rates. Consider staying in beachfront properties to wake up to stunning views every morning.
Experience Local Cuisine
Southwest Florida is a culinary delight, boasting a wide range of delicious seafood, tropical fruits, and fresh produce. Indulge in mouthwatering grouper sandwiches, stone crab claws, and Key lime pie. Explore local markets and dine at waterfront restaurants for an authentic taste of the region's cuisine.
Attend Fall Festivals
Southwest Florida hosts several fall festivals and events that are worth including in your itinerary. The Stone Crab Festival in Naples, the Island Hopper Songwriter Fest in Fort Myers, and the Everglades Seafood Festival are just a few examples. These events offer a fantastic opportunity to immerse yourself in the local culture, music, and food.
Consider Off-Season Activities
While the beach is a top draw in Southwest Florida, there are plenty of off-season activities to explore. Visit the Edison and Ford Winter Estates to learn about the region's history and inventions, go shopping at the Miromar Outlets, or take a stroll through the charming downtown areas for boutique shopping and art galleries.
In Conclusion
Planning your Southwest Florida fall vacation can be an exciting and rewarding experience. With the right dates, destinations, activities, and accommodations in mind, you're well on your way to creating unforgettable memories in this enchanting paradise. Embrace the region's natural beauty, indulge in its cuisine, and immerse yourself in its vibrant culture to make the most of your time in Southwest Florida. Happy vacationing!
Embrace the allure of Southwest Florida, where enchanting landscapes and endless possibilities await you. Let our dedicated team be your guide, from discovering the perfect property to transforming it into your dream home. Don't miss the opportunity to join this vibrant community where history and modernity blend seamlessly. If you envision a future in this captivating region, hesitate no more – reach out to us today and begin turning your aspirations into cherished memories in the heart of Southwest Florida!