Where Every Day Is an Adventure: Fishermen's Village, Punta Gorda
Posted by Chris Grant on Monday, October 23, 2023 at 11:12:26 AM
By Chris Grant / October 23, 2023
Comment
Florida is a haven for adventure seekers and fishermen because to the range of fish camps, fishing charters, and resorts there. Fishermen's Village in Punta Gorda, Florida, on the other hand, is a unique discovery tucked away along the magnificent Gulf Coast. This well-known location is even searchable online at fishville.com. It honors fishing as a way of life and an endless source of joy.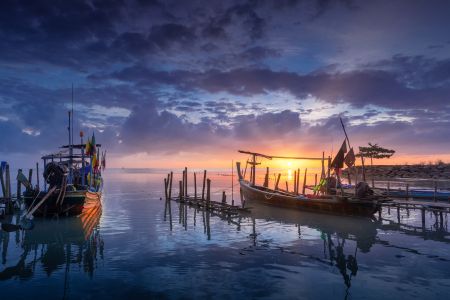 Shopping Therapy
Fishermen's Village is truly unique because of its past. Originally a historic pier, this location has been transformed into a vast resort, shopping, and entertainment complex. You'll find experiences here in addition to accommodations. Fishermen's Village offers a variety of accommodations, dining establishments, points of interest, shops, and boutiques. It also organizes memorable events.
Because of its past, Fishermen's Village is extremely special. This place was once a historic pier but has been changed into a sizable resort, shopping, and entertainment complex. This place offers experiences in addition to lodging. Fishermen's Village has a wide selection of lodging options, restaurants, attractions, retail stores, and boutiques. Additionally, it plans enduring events.
Leaving on an Adventure
Visitors are attracted significantly by the full-service marina. It can handle a variety of boats, including skiffs, sailboats, and ultra-luxury yachts. The marina serves as your entryway to aquatic adventures, whether you're plotting a course on Charlotte Harbor or heading out to the Gulf of Mexico for a day of fishing.
Land Journeys Await
Fishermen's Village is conveniently near to the center of Florida thanks to its ideal location between the banks of the Peace River and Punta Gorda. Discover the shops, boutiques, cafés, and restaurants in the storied retail district. Some of Florida's most beautiful beaches may be seen along the Gulf of Mexico just outside the hamlet. Located in Fishermen's Village, cozy vacation villas with views worth a million dollars are available for a reasonable price.
Delicious Food with a View
With waterfront restaurants, foodies are spoiled with choice. Grab a fast snack to keep you going on your complimentary bicycle ride, have a relaxed lunch at a sidewalk café, sip a beer from the brewhouse, or treat yourself to a fancy steak dinner. Particularly seafood aficionados will enjoy the fresh catch at acclaimed restaurants. Breathtaking views of shimmering Charlotte Harbor are a recurrent theme.
Remedial Shopping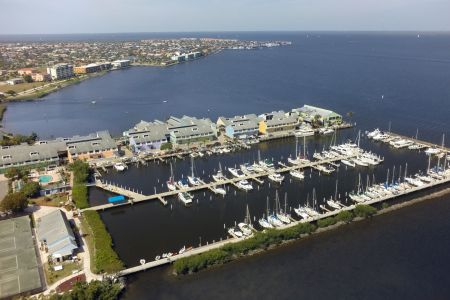 You'll discover that shopping at Fishermen's Village is an incredible delight. Our shops provide a wide variety of gifts, including toys, handcrafted jewelry, and fashionable clothing for both men and women. Discover our selection of high-quality cookware, necessary gardening tools, beach needs, and fashionable accessories. It's important to stop by the ship's chandlery; don't forget to do so! Treat yourself to some well-deserved pampering in our salon and spa for those moments of relaxation.
Where Tradition and Modernity Collide by Sea
Fishermen's Village has embraced modernity, in contrast to many fishing hubs that have maintained tradition. The formerly primitive docks have changed to accommodate both sportsmen and families. It is understandable why Dock Age magazine dubbed it "Marina of the Year." Charters can be planned, and private boat owners have access to over 100 berths with power, water, cable, and Wi-Fi. Boats can also be rented.
At the entrance to well-known fishing locations including Charlotte Harbor, the Peace River, the Myakka River, and Alligator Bay, Fishermen's Village enjoys a fantastic location.
Fishermen's Village serves more than simply anglers. To appreciate the distinctive natural beauty, nature lovers and recreational boaters go on harbor tours and sunset cruises. You can go shell hunting, anchor in secluded coves, explore barrier islands, or go into the rear bay where the Peace and Myakka rivers meet. Rentals, instruction, and harbor excursions for paddleboards and kayaks provide accessible ways to enjoy nature.
Consider starting your vacation in Fishermen's Village in southwest Florida because there are so many attractions there. There, every day is an adventure, and Florida truly comes to life in a way that is unforgettable.
Contact the Grant Team right away for more details on Fisherman's Village or any other Punta Gorda or Port Charlotte Real Estate!