Waterway Colony Homes for Sale
Updated Real Estate in Waterway Colony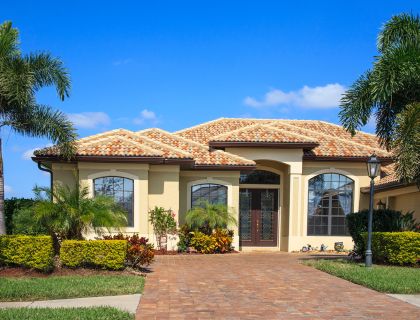 Waterway Colony is a well-established neighborhood in Punta Gorda, Florida, known for its midsize homes that offer a comfortable and reasonably priced living experience. This community, which dates back to 1965, has continued to evolve over the years, making it an attractive destination for both homebuyers and investors. Florida is synonymous with sunshine, beautiful beaches, and a vibrant lifestyle. If you're seeking your own slice of paradise in the Sunshine State, look no further than Waterway Colony. Nestled in the charming city of Punta Gorda, Waterway Colony offers a unique blend of Florida's natural beauty and modern living.
And, for your convenience, feel free to register for a free account to receive email alerts whenever new Waterway Colony listings come on the market that match your specific criteria, or start your search for all Punta Gorda Real Estate listings here.
No Matching Listings
Get notified when matching listings become available. We also have found more listings nearby within 5 miles of this community.
All Punta Gorda Neighborhoods
Things to do Waterway Colony
Punta Gorda Sailing, LLC
Welcome to the world of sailing at Punta Gorda Sailing, where we're passionate about sharing the thrill of sailing with you. Nestled along the stunning shores of Charlotte Harbor in Southwest Florida, Punta Gorda Sailing offers a diverse range of sailing cruises to cater to every type of adventurer.
Whether you're commemorating a special anniversary, birthday, or engagement, seeking the perfect sunset snapshots, or simply craving an unforgettable adventure, Punta Gorda Sailing has you covered. Our offerings span day cruises, enchanting sunset cruises, private charters, and more, with durations ranging from 2 to 10 hours. So, why wait? Embark on your sailing journey with us today!
http://www.puntagordasailing.com/
Saint Andrews South Golf Club
Our mission at St. Andrews South Golf Club is to continually exceed our members' expectations, providing a high-quality golf course and clubhouse. Our journey began in December 1980 when we established this private golf club, and over time, we've strived for excellence. Despite initial challenges and the havoc wreaked by Hurricane Charley in 2004, we've persevered. Our dedication to improvement led us to transition our greens to salt and disease-tolerant paspalum grass, enhancing our golfing experience. Moreover, we've extended our commitment beyond golf by actively participating in charity events and community activities, earning recognition and prestigious awards along the way. Join us at St. Andrews South Golf Club, where golf is not just a game but a way of life.
http://www.standrewssouth.com/
SHOP AT FISHERMEN'S VILLAGE
At 1200 W Retta Esplanade in Punta Gorda, FL, the charming Harborwalk leads you to the vibrant heart of the city—Fishermen's Village. This popular tourist destination is a fantastic day trip from Naples or Fort Myers, offering an array of exciting activities. Once you arrive, you'll discover a world of possibilities. From indulging in delicious meals at spots like The Pier and the Village Fish Market Restaurant and Lounge to satisfying your shopping cravings, Fishermen's Village has it all. Explore unique stores like Caribongo for color-changing clothing, Salty Paws for your furry friends, Bella Balsamic & The Pressed Olive for imported goods, and Naples Soap Company for exquisite soaps. It's a day filled with dining, shopping, and fun in Punta Gorda!
https://www.naplesfloridatravelguide.com/blog/fishermans-village-punta-gorda
Waterway Colony Schools
Punta Gorda Middle School
1001 Education Avenue
Punta Gorda, FL 33950
(941) 575-5485
Punta Gorda Middle School is located in Punta Gorda, FL and serves grades 6-8.It received a GreatSchool rating of 4 out of 10
Charlotte High School
1250 Cooper Street
Punta Gorda, FL 33950
(941) 575-5450
Charlotte High School is located in Punta Gorda, FL and serves grades 9-12.It received a GreatSchool rating of 5 out of 10
Sallie Jones Elementary School
1230 Narranja Street
Punta Gorda, FL 33950
(941) 575-5440
Sallie Jones Elementary School is located in Punta Gorda, FL and serves grades PK-5.It received a GreatSchool rating of 7 out of 10
Waterway Colony Real Estate
Affordable Luxury
One of the standout features of Waterway Colony is its affordability without compromising on the quality of life. Here, you'll find homes ranging from $395,000 to $785,000, with a median sale price of $635,000. Whether you're looking for an attached home like a condo or townhouse or a spacious single-family home, you'll find options that suit your preferences.
Diverse Property Types
Waterway Colony offers a range of property types, including attached homes (like condos, townhouses, and lofts) and single-family homes. These residences typically range from 1,601 to 2,134 square feet, providing ample space for comfortable living. With three bedrooms and two to three bathrooms, you'll find floor plans that accommodate various lifestyles.
Location, Location, Location
One of the biggest draws of Waterway Colony is its prime location in Punta Gorda. Situated in the heart of Southwest Florida, Punta Gorda offers a mix of natural beauty, recreational opportunities, and cultural attractions. Residents of Waterway Colony enjoy easy access to Charlotte Harbor, making it perfect for water enthusiasts and nature lovers.
Recreational Opportunities
For those who love spending time outdoors, Waterway Colony doesn't disappoint. You'll have opportunities for boating, fishing, and exploring the scenic waterways right in your backyard. Imagine kayaking along peaceful canals, enjoying sunset cruises, or even casting a line from your dock. With the Gulf of Mexico nearby, the options for aquatic adventures are endless.
Convenience and Amenities
Living in Waterway Colony means you're never far from everyday conveniences. The neighborhood is well-connected to essential services, shopping centers, and dining options. Punta Gorda's downtown area offers a host of charming boutiques, restaurants, and cultural experiences for you to explore.
A Community with Character
Waterway Colony is more than just a collection of houses; it's a community with character. Its long-standing presence in Punta Gorda is a testament to the quality of life it provides to residents. If you're looking for a place where neighbors become friends and the sense of community is strong, Waterway Colony might be your ideal destination.
Your Florida Dream Awaits
In Waterway Colony, you can have it all – the Florida dream of sun, sea, and relaxation is within your reach. Whether you're seeking a year-round residence, a vacation home, or an investment property, Waterway Colony in Punta Gorda offers an enticing mix of affordability, convenience, and the quintessential Florida lifestyle. It's time to explore your options and make your Florida dream a reality in Waterway Colony.
Contact Your Waterway Colony Realtor®